A covered patio is the perfect addition to your Atlanta backyard to turn it into a haven of comfort and relaxation. However, it's not a matter of simply building a patio or deck — once you have one, you'll want to make some design decisions turning it into a true southern home oasis.
That's where Oasis Landscaping can help. We've compiled a list of some of the best ideas to help you turn your covered backyard patio into a charming outdoor dining space for the whole family.
1. Material Choices 
Every well-designed, covered patio oasis begins with the right choice of materials. Atlanta's climate calls for durable materials capable of withstanding the beating sun and frequent rain. Sturdy materials like stone or stamped concrete for your patio surface ensures longevity over the years.One of the main jobs of a covered patio is to offer shade and protection from the elements. It's essential to have a dependable roof, whether you're seeking shelter from the scorching sun or a dry spot away from the rain.
There are various styles of covering — from retractable awnings or pergolas with retractable canopies to more permanent solutions like gazebos made with wood or metal.
Consider the style of patio space and choose a high-quality material complementing your desired aesthetic. For example, adding a gazebo within your outdoor patio adds a rustic look accenting Georgia's southern charm.
2. Ceiling Fans and Lighting 
Adding ceiling fans to your covered patio is a great way to cool down during the hottest months of the year. Combine ceiling fans with lighting elements to create an inviting ambiance enjoyable for any time of the day. Incorporate dimmable lights to control the mood for evenings or high-energy gatherings.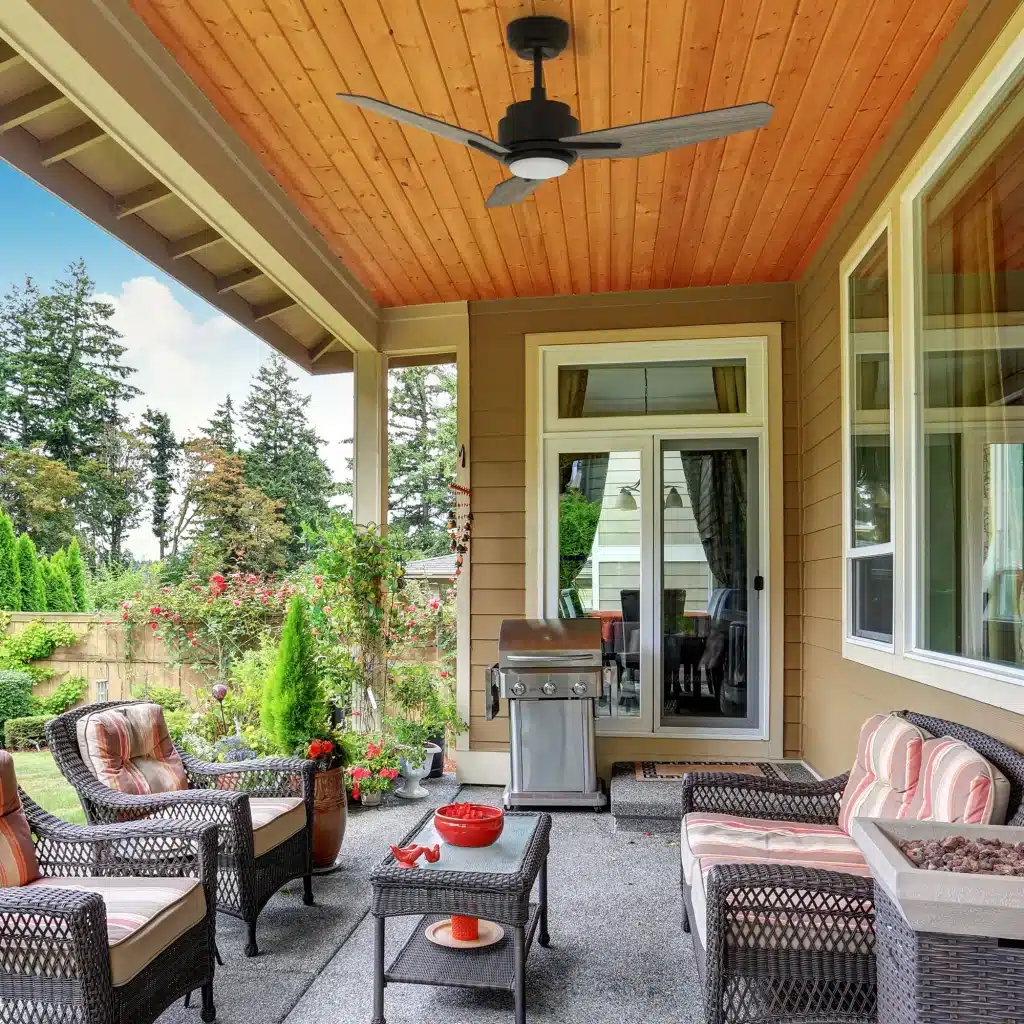 3. Outdoor Kitchen 
An outdoor kitchen is the perfect amenity to entertain guests or just enjoy a meal with the family. Cooking outdoors is a practical way to cook comfortably during hot summer months. It's also a great way to lower your electric bill by keeping the interior of your home cooler.
When it comes to outdoor kitchens, you're limited only by your budget and your imagination. Either keep it simple with a gas or electric grill, some cabinets, and an area for preparing food, or add an entire gourmet cooking station complete with a pizza oven, bar, stainless steel appliances, and more. It is important to prioritize safety above all else and avoid using a charcoal or propane grill under a covered patio. If you implement a gas or electric grill into your outdoor kitchen, it's important to have a ceiling that is nine feet high or higher for fire safety codes.
4. Fireplace 
An outdoor fireplace is one of the most popular features to add to your outdoor living space for a cozy atmosphere. This way, you can get the coziness of a fire without a fire pit, which is a fire hazard under a covered patio.
Not only is a fireplace safe with a chimney, but it is an appealing source of light and warmth. An outdoor fireplace also makes an attractive architectural focal point that serves as a natural gathering place. Installing a fireplace is also a great way to extend the usability of your covered patio oasis year-round.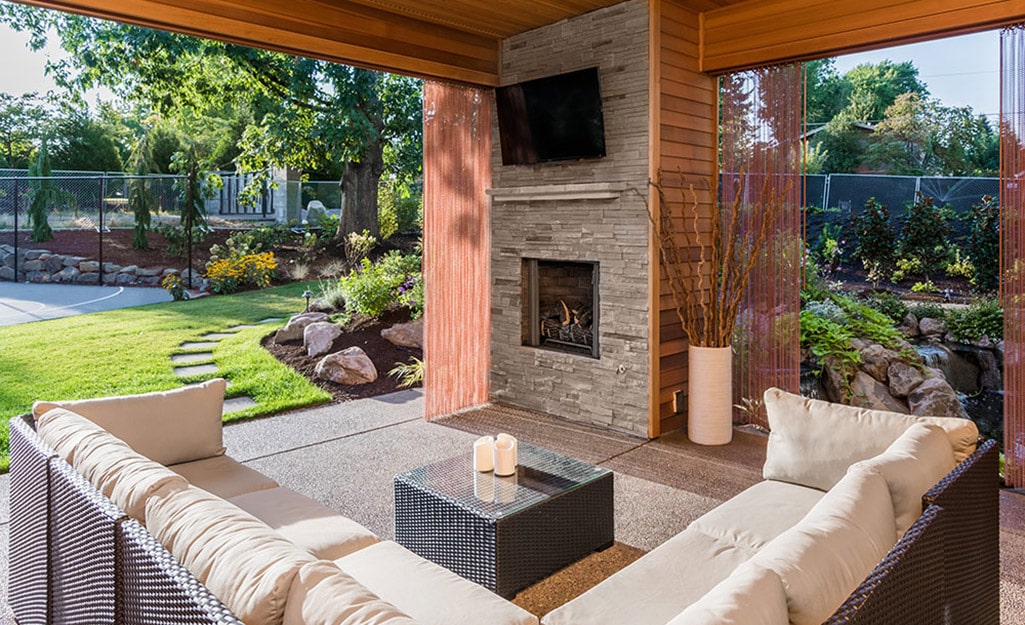 5. Greenery
You can also integrate natural elements into your covered patio design. Incorporate greenery like potted plants, shrubbery, or even a vertical garden to give your patio a living feel. You could also add vines to have a curtain effect on the periphery of your patio. Use potted native Georgia plants for a thriving outdoor garden that not only looks great but also makes your patio area eco-friendlier and more sustainable.
6. Versatile Seating
In addition to more permanent elements like kitchens and fireplaces, you can also invest in versatile seating. Of course, many of those furnishing their covered patio will want to find high-quality, comfortable seating. But you can also have a lot of fun with versatile seating that can be used for sitting and visiting, enjoying a meal, or sleeping!
Consider a sectional span across your patio, with a table easily moved for dining. Or, add a loveseat or couch that can turn into a guest bed for the night. This type of versatile seating areas lets you open up the space when needed and make the most out of your covered patio.  
7. Entertainment System 
For the music and film lovers in your life, consider adding an entertainment system! Enhance your covered patio with an outdoor television, crystal clear speakers, or even a projector screen that can be viewed from the lawn. Friends and family will love visiting movie and game nights, creating memories that are sure to last a lifetime.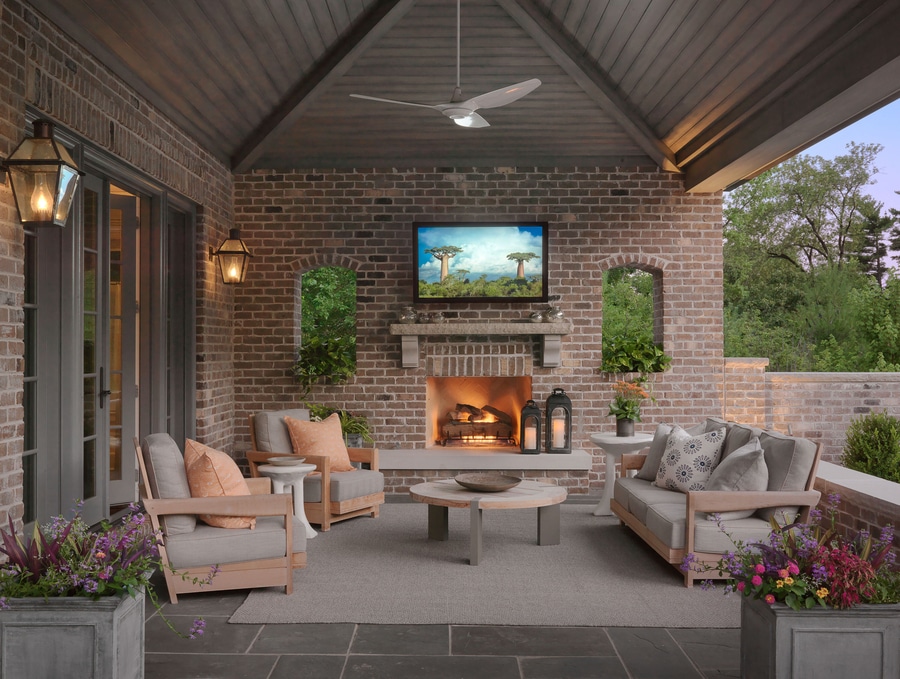 8. Flooring Design 
Details like the floor of your patio provide a wonderful opportunity to customize and further transform your space. Consider using a decorative pattern, multiple kinds of wood, or a unique finish or varnish to help create a visually appealing design for your patio. Great flooring for your outdoor space not only adds aesthetic value but also helps define different areas within your patio. 
Inspiring Backyard Covered Patio Ideas by Oasis Landscapes 
No matter what covered patio ideas you've got in mind, our friendly team here at Oasis Landscapes and Irrigation is here to help. After all, your covered patio should be an expression of your own personal style and needs! Whether you desire a cozy, intimate space with seating and entertainment or state-of-the-art water features and expressive design, we've got you covered.
With over thirty years of experience in the landscaping and irrigation industry, we know what it takes to create the perfect outdoor area. We're passionate about creating amazing spaces that inspire and allow you to make the most of your home. Every single one of our clients is important to us, which is why we'll collaborate with you through each step of the project, ensuring the Southern home oasis of your dreams.
Curious about our services or want to reach out to us directly? Click here to bring your patio covering ideas into a reality!